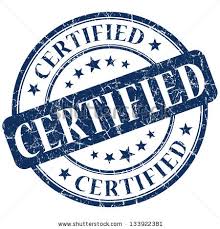 Pay Stub direct is certified
Yayyyy....  We can now officially say that Pay Stub Direct is Certified.  We've been working on this site for a few years now, and we finally saved up some money to get an external audit, and recieved our SSL certificates.   Which means that we were verified as legit.    We provide what we say, and we have a 3rd party confirming that.
Now, when you purchase from us, there is an added layer of security,   in the URL,  you can see the https     the key is the 'S'    when you pay.    Without getting into the borning details,    there is a constant verification of your computer, and the purchaser.   You can see that "S"  on any bank website, or any purchase site.    Like Amazon, or Ebay..   etc...
This is a big step for our site.   As you know, we have been a grass roots effort of accountants and lawyers that wanted to create this site, and help the common person create pay stubs for their business, or private income.    Without buying expensive software, or complicated setup process.
Our goal was for you to be able to create your site, efficiently, and correctly, and quickly.   So as to make life easier for all of us.   We hope you like our service as much as we think you will.   Our motto is to make sure you come back, based on quality and comfort.    So, this milestone, of getting our Pay Stub Direct Certified is huge for us.
https://makepayslip.co.uk/wp-content/uploads/2017/09/paystubonline.png
0
0
https://makepayslip.co.uk/wp-content/uploads/2017/09/paystubonline.png
2014-07-28 22:10:33
2015-09-27 19:43:40
Pay Stub Direct is Certified